The Best CPU for 3D Rendering 2021
Certainly, the CPU is known as the "brain" of the computer. Because it is the central mathematical engine and does a lot of calculations.
So Here is the list of The Best CPU for 3D Rendering 2021
Additionally, It is the most important hardware for rendering as well. However, It is quite difficult to choose the best CPU for rendering. So, we have decided to guide you about the best CPUs for rendering on budget.
So, To perform rendering a CPU should have certain features.
First and foremost are the multiple processors (cores) and core-clock. The cores and core clock enhance the speed of the render. As a rule of thumb, the higher cores and higher core clock boost the rendering speed.
secondly, the GHz of the CPU. It is also quite an essential component to focus on before buying a CPU. A high GHz processor would be a great choice for rendering.
Memory is an important part. Though adding more GBs to your CPU won't speed up your render. Rather, make sure you have enough to handle complicated scenes.
1. AMD Ryzen 7 2700X
AMD introduces the Ryzen series with too many improvements in its architecture. That shakes the intel to its bases.
Similar to Ryzen 7 1800X, Ryzen 7 2700X has 8 cores, 16 threads with a faster 3.7GHz base clock, and a 4.3GHz boost.
The AMD Ryzen 2nd generation processor evolves to the zen+ architecture with a 12nm LP node. Which makes it way faster than its predecessor.
The intel core 7 processor has thermal interface material (TIM) as a cooling element. Which is less efficient than the Ryzen 7 2700X soldered cooling element.
AMD has launched an X470 chipset and program for a better power supply. Though, it can also work on X370 motherboards. It is a complete deal of improved specifications with good prices. In short Ryzen 7 2700X is all you need.
Higher clock and good memory compatibility
Affordable
Useful CPU coolers.
2. Intel i5 8400
Intel i5 8400 is more light in your pocket. The intel i5 core is a six-core CPU without hyper-threading. And 2.8GHz base clock speed is relatively low. Its single-core maximum turbo speed is 4GHz. However, Its all-core boost is 3.8 GHz.  Additionally, it has an L3 cache set to 9 MB. The i5 8400 is built on a better version of a 14nm architect. Likewise, its other predecessors. The i5 8400 requires a 300 series motherboard for a better power supply. Because Z370 is not an ideal chipset.
When it comes to rendering, i5 8400 is top-notch in its performance.
Does not support many threads.
Require a new motherboard.
3. AMD Ryzen 7 1700Xs
AMD Ryzen 7 1700Xs is cheaper than Ryzen 7 1800X. And it is built on zen architecture with 14nm of the manufacturing process. As compared to the 1800x, 1700x is slightly slower with 8 cores, 16 threads along with 16MB of L3. The X series has a higher XFR boost. However, a lower base clock of 3.4 GHz with a boost of 3.6 GHz.Additionally, 1700Xs has a chip of dual memory, with 64GB of DDR4. The overclocking of the 1700X is pretty good. Moreover, it holds the eight-core configuration with 16MB of L3 cache. For additional overclocking, you required a premium motherboard as well as a high-quality cooling system.
The Ryzen 1700X is a great performer than the 1700 and equivalent to the 1800X, but the lower price tag makes it more economical.
Multi-threaded
Low TDP
Unlocked ratio multiplier
Poorly optimized software ecosystem.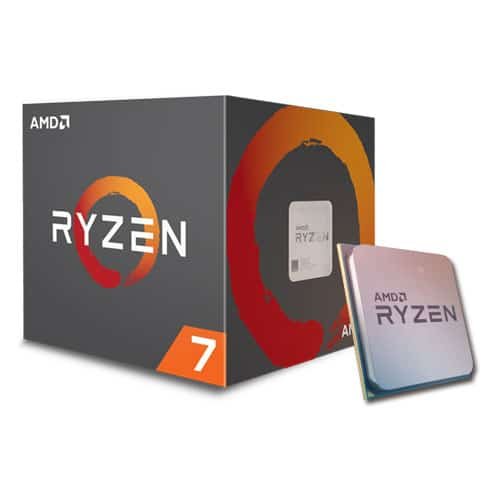 4. Intel i7 9700K
Intel's 9th generation Core i7-9700K is a powerful and proficient processor. It is built on a 14nm production process. Moreover, it supports up to 128GB
Intel's Coffee Lake i7 has advanced the core count. Unlike Core i7-8700, It has eight-core chips with eight threads but no hyperthreading. However, the loss of extra threads is not an issue for the overall performance.
Intel i7 has a TDP of 95 watts, thereby, the CPU won't require a steep desktop cooling system.
good single-core performance.
Well-manage the 3D graphics demand.
No hyper-threading
Heatsink and cooling fan not included
5. AMD Ryzen 9 3900X
AMD Ryzen 9 3900X has a 12 core and 24 threads, ALong with 4.6 GHz power which makes it an ultimate high performer. It is much faster than the overpriced Intel Core i9-9900K.
The base frequency of 3900X is 3.8 GHz with a Boost frequency up to 4.6 GHz. Besides a heatsink, it has a TDP of 105W.
Moreover, you don't need to buy a new motherboard for Zen 2 architecture. To make it compatible with all X470 and B450 chipsets, AMD announces the BIOs updates.
The 3900X has a 70MB of L2 and L3 cache. which is a good improvement.
Low power consumption
Multi-threaded with superb price
Easy overclocking
VERDICT
We have tried to make a list of the BEST CPUs FOR 3D RENDERING. And we believe that it can help you in selecting the CPU of your need.
However, there are also other better options present in the market. Somehow, we found out the above CPUs are best for rendering.
You can also provide us with your feedback.